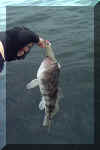 Bass: When targeting bass from a boat, I like swimbaits. Unlike most saltwater situations, you'll have better luck with smaller baits. My personal favorite is the 4" green grunion Fish Trap. I typically use a 12lb baitcasting setup. We set up a drift 50'-100' (as close as conditions will allow) from the wall on the outside, and cast to the wall, let the bait sink as far as you can without losing it to the rocks, then a slow retrieve. We've also had some success slow trolling swimbaits. I've seen pictures of a 9lb Calico and a 12lb Sand Bass taken off the wall.
White Sea Bass: Although I've never caught a legal WSB on or near the wall, there are stories of 40lb WSB taken off the wall every year. Spawn & squid may very well play a role.
Halibut: The 3 openings come into play for halibut. Typical depth for the wall runs from 40'-45'. The Long Beach and San Pedro openings are down to 80'. Carefully drift these openings, as there is much boat traffic and many large ships using them, and they have the right-of-way. Once again spawn comes into play. There are a few days per year when the party boats fish the openings and pull up large numbers of the flatties. When we target the flatties we use 25-40lb gear. We use live squid when available. Live sardines also work. If you want to take the time to catch your own, smelt can be the hot ticket. The sliding dropper loop with a trap hook has worked for us.
Yellowtail, Barracuda, Bonito & Mackerel: Although Yellowtail, Bonito and legal Barracuda don't live at the wall year round, in season we have caught Yellowtail and Bonito within 50 yards of the outside of the wall. In season we have caught have caught legal Barracuda on both sides of the wall. We have found that small barracuda also live near wall year round. They will hit live bait, swimbaits or lures. Mackerel can also be caught year round near the wall.

Cartilage: Sharks, Skates & Rays also live near the wall. They will most likely be incidental catches on live or cut bait.