| | |
| --- | --- |
| | Fishermen's Journal |
Repower : The "Nido Del Mar" Story
Written by Mark Capitano
---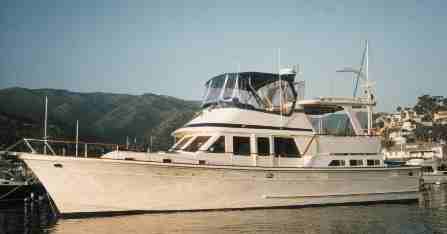 ---

Ever wonder what it takes to put new engines in boat. We did and let me tell you it's a giant project. This is the story of re-powering our 48 foot Offshore Yachtfisher, Nido Del Mar.

The Need for Speed:

It all started with the need for speed. When we originally purchased our (used) boat it came with twin 200 HP Perkins Diesels. The boat had a cruise speed of 9kts. At first this was fine especially considering that we had just sold a sailboat that cruised at four kts.

Then we started fishing. Speed soon became an issue, as we needed to do multiple day trips to get where the fish were. Just the ride to a spot 50 miles away took 6 hours and that didn't include fishing. We started our search for speed with talk of a new boat and began looking around. We were hoping to find something that did 15 kts or better. It soon became apparent that we couldn't replace what we had and get the speed we wanted without spending a lot more money then we had in the bank. That meant that we would first have to sell our boat and still put in a lot of cash. That was when we began to think of re-powering.

For us the math made sense. First we knew we got a great buy on our boat. To replace our boat with other USED boats of the same type but with larger engines would cost almost double what we had paid. A few phone calls quickly told us that there was no way we would spend that much money on a re-power.

Deciding what engines
First we went to our regular mechanic. We told him we wanted to go at least 15 kts and asked what he thought would be best. He suggested Yanmar diesels, as he was a Yanmar dealer. Not wanting to be stuck with just one choice we also called CAT, Detroit and Cummins.

The bid process was very technical and time consuming. Engine dealers and their rep's coming to the boat and measuring, checking shaft sizes, worrying about exhaust pressure. Everyone telling us their engine was best and their people were experts. We spent days and even weeks on the phone collecting and then comparing information. After hearing all the testimony and very careful consideration we decided that Cummins was best suited to our needs. The Cummins 370HP B Diamond series diesels to be precise.

Finding the right guy to install our new engines
The next step was deciding who would put them in. We talked and listened to many mechanics and we checked with our local boat yard. It turned out that there finding the right guy was more difficult then we had anticipated. There are not many guys around with the expertise and willingness to tackle a project of our size.

We eventually settled on a "Repower Specialist" who did all the work except props in house. There are not many of these guys around. The alternative is a mechanic who subs out all or most of the fabrication work to other shops. We liked the idea of most of the work being done under the same roof by the same guy. In addition to coming across as very knowledgeable he was highly recommended by both Cummins and the transmission manufactures. On the downside this mechanic was located 100 miles away but based on the recommendations and what we had seen we felt he was worth the trip. (Please see the link at the bottom of the page).

Price
Of course price was also very important. Trying to compare all bids is not easy. Different engines require different systems and cost can vary greatly. For instance some engines, though less expensive then their counterparts, required a larger exhaust system then we had in place. That meant additional cost in other areas. You usually don't find this out until a mechanic has been aboard and seen and measured your existing system.

The mechanic we had selected was not the least expensive, but also not the most money. In addition this mechanic was the only one that gave a FIRM price. That is, if it were more to do the work outlined in the original bid he said he would not charge more. That impressed us.

Of course every boat is different and no two will cost the same to repower. Still I thought someone may be interested in what we spent. It was $85,000.00 for everything. As you can see this is not something to be taken lightly however in our case we figure we saved about $100,000 when compared to replacing our boat with another used vessel. Below is a list of everything we had done.

Its not just a Repower
There are lots of other items that must be considered when replacing engines aboard a boat. This is especially true when going way up in horsepower as we did. We were removing twin 200 HP engines and replacing them with 370 HP engines. That meant a lot of systems needed to be made larger or stronger. Fortunately our boats basic structure could handle larger motors so no major structural reinforcing work was required. Even so a lot of changes were needed.

Here is what we had done and what was included in our price.
1. Old engine removal.
2. Two New Cummins 370hp B Diamond Series Engines.
3. Two New ZF transmissions.
4. New engine mounts. 5. New stronger propeller shafts (same diameter / better material). 6. New larger Nibral props.
7. New "dripless" shaft packing systems.
8. Side venting of exhausts and punching out the mufflers to relieve exhaust pressure.
9. We had the entire engine room painted and refurbished while the engines were out.
10. We completely replaced the fuel system with new larger lines and a new fuel/water-separating filter system.
11. We had to put in larger raw water intakes.
12. We had to put in larger raw water strainers and all new hoses.
13. New sets of engine gauges for both the upper and lower stations.
14. New bottom paint
15. New raw water through hull and seacock for a future bait tank. (figured we mind as well while the boat was out of the water)
16. 2 months of Boat Yard storage including removing and replacing boat in water.
17. Replacement of the 12-Volt system from the battery boxes up to the electrical panel.
18. A new custom battery box.
19.Tax

The installation
The actual installation is the fun part. Virtually everything that attaches the engines to the boat is CUSTOM MADE . Our boat was an especially tough installation. Our engines are located inside the salon, under the floor. The access hatches are in the middle of the salon. That meant that the engines needed to be brought inside the boat. They were then lowered into the center of the engine room and moved outward, back under the salon floor, onto the stringers. Each engine took a full day just to get them into place. Because our boat was so far away we could not get there except on weekends.

We called our mechanic everyday for an update and just to talk about the work and boat. Our mechanic was as patient and helpful. This is important with a job where you are spending so much money. The last thing you need is a mechanic that's doesn't want to take the time to talk to his customer. Frankly we bugged the hell out of our guy and he never once complained or made us feel like he was too busy. He always had time to talk to us about the job. He even spent two full Sundays (his only day off) with us to discuss the work and see other projects he had completed.


Re-powers take a long time
At this point I need to mention how much time had passed since we started the project. By the time we had selected the engines and the mechanic four months had passed. That was before the actual installation even began. Very few things go fast when looking into a re-power. Days on the phone getting rough numbers. Everyone needs to "get back to you." Mechanics are backed up and can't get to your boat for 2 weeks to do a bid, then its two more weeks to get all the numbers together. Then you decide you need to look at another engine manufacture and the whole process starts over.

Once we got the boat into the boat yard the installation took another 2 months. That put the total job from start to finish at half a year. The bottom line is be prepared to be working on repower for 6 months. If its less then that be happy.

The Results of the Project
We were very lucky. For us very few things went wrong. There were very few surprises. The big question was "would we get the 15 kts we were hoping for?"

Sure the computer models said we would, but what would really happen in the ocean. When we hit the Throttles would we fall back in our seats or wish we had bought another boat? The one thing our mechanic, or for that matter any mechanic, couldn't tell us was how fast we would REALLY go. They all told us every boat was different and we would have to wait and see what the final outcome would be.

The day finally came for the Sea Trial. We had waited a very long time for this day and it was a long ride to the boat yard. We were anticipating the worst as the day before our mechanic had taken the boat out for a "pre" sea trial. I had spoken with him after his return to port. In a very somber tone he had refused to tell me how fast our boat was, just to wait and see when we got there.

We arrived at the dock and climbed aboard. After a few adjustments we were off. We drove the boat slowly out of the harbor. You could feel the power of the new engines even at idle. The sounds, vibrations, feel of the throttles, everything was different. As we left the breakwater we slowly pushed the throttles forward. The Rpm's came up and you could hear the Turbo's kick in. Suddenly the bow of the boat rose and immediately climbed onto plain. As we brought her up to 2800 cruise RPM we hit 18 kts. YES! Boy we were happy! Then we pushed the throttles to full speed and the boat broke 21kts. We were shocked! We had never expected our 20+ ton 48 footer to go that fast. Happy as clams we put the boat through her paces without any problems. After dropping off our mechanic we returned to our home dock with grins from ear to ear. For us everything had worked out beautifully.


PS For the record our mechanic was Tony Athens of Seaboard Marine in Oxnard. Thanks to Tony's great work we have what I consider a "New Boat". Tony also has a website. I can recommend his work and customer support highly.
SEABOARD MARINE / TONY ATHENS
2947 W. 5th. St.
Oxnard, California 93030
http://boatdiesel.com/Dealers/SeaboardMarine/
---
---
You too can get published right here at CharkBait. Have an idea other boaters or fishermen could use, some experience to share, a great trip to report? Well, get typing, include some pics, and if your article is selected for publication you'll receive a free CharkChirt and the appreciation of other fishermen.
Thank you for visiting!
If you have any questions please contact me through e-mail.
© CharkBait 1999