Releasing Black Seabass Safely
by
Capt. Jerry Barber
Black seabass are making a rebound from near extinction and are being hooked and landed by more and more fishermen every day. The first problem when landing one of these giants is to identify it as a black seabass. Too often I hear, "What the hell is THAT?" when one is brought to the boat. If you are fishing on or near the bottom and bring up a large, usually spotted, grouper-like fish, you probably have caught a black seabass. Now you have a problem. These fish are fully protected by law and MUST be released. The problem is…how? These fish are usually caught in deep water and their now-inflated gas bladder stops them from swimming back to the bottom.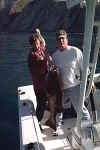 Most sportfishers carry long hypodermic needles which are inserted into the side of the fish behind the pectoral fin. This deflates the bladder and allows the fish to return to the seabed. There are two dangers in doing this. First, it must be done correctly or the fish could be killed instantly. Secondly, when the needle is inserted through the skin, it picks up slime which is then deposited deep inside the fish. This can cause an infection which results in a long, slow death. I use a device that safely and efficiently returns the fish to the sea and I offer it to you for your consideration.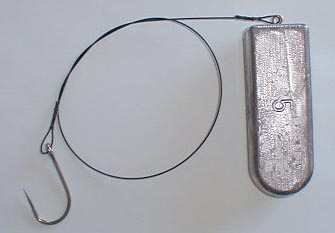 The device consists of a 5# rock cod weight, a 24" piece of braided stainless leader and a 10/0 stainless hook modified to be barbless. Simply attach the hook to the weight with the wire leader and keep the device permanently on your boat. When a seabass is caught, tie a line from any convenient rod to the bend of the hook. (Use at least 25 pound test so the line doesn't break) The hook is then inserted DOWNWARD through the UPPER lip of the fish and the weight is slipped gently into the ocean, followed by the fish. With the reel in freespool, the weight pulls the fish to the bottom where its swim bladder deflates naturally. If it doesn't swim away by itself, a sharp upward pull on the line will pull the hook out and release the fish.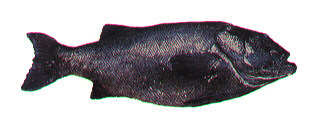 This "Safe Release", as I call it, costs only a few dollars to build and is the easiest, and safest, device I have ever found. Take the time to build one and keep it in a convenient spot on your boat.