Baja Estero de Coyote
By
Doug Pierson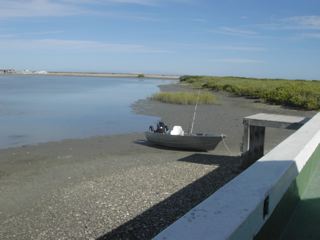 I call it my own personal fish pond but I suppose there are 20 other gringos that think Estero de Coyote is their own "secret spot" too. We just never get there the same time and seldom meet each other. I have run into San Lucas Cove's Mayor Alan Lewis and gringo Ken from la Bocana is to be encountered at times.

Campo René is located on Baja Sur's Pacific coast just 10 miles south of the legendary Punta Abreajos grouper reefs and only 20 miles south of the La Bocana yellowtail reefs and ten mile long Laguna la Bocana. These areas are reached by traveling 520 miles south of the border on Mex. 1 ( la carratera) and turning right at the notorious Middle of Nowhere. This particular " Middle of Nowhere" is 27 miles south of the town of Visciano. There is no gas at the turnoff so be smart and fill your rig and spare cans at Guerrero Negro. Visciano does have a Pemex but if they are out of gas, a not- so- rare situation, then you are out of luck.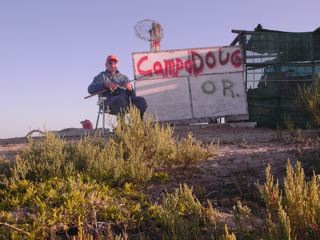 Gas is available at both Punta Abreajos and la Bocana from drums and cans. I have found it to be of good quality and it is usually about $3 a gallon compared to the $2.25 or whatever at Pemex.The fishing turn-off is marked by small signs pointing to Punta Abreajos and a Campo René sign comes and goes. Beautiful Campo René is a dangerously long day's drive from the border when towing a boat. I feel more comfortable allowing 2 days from the border to Campo René. Unfortunately I am slowly falling victim to the inevitable and inescapable Baja Regulars' Syndrome of pushing travel times. This is ridiculous as Mex. 1 is a very dangerous road and intersects the most stunning desert on earth, the Sonoran Desert with it's myriad of wild and weird desert plants and abundant desert wildlife to enjoy and photograph.
Without a boat behind one can "fly" the washboards, skipping along the high spots but don't even think of this with a boat behind. I allow 3 or 31/2 hours to tow my 14 ft. tin boat to the waters edge from the highway. It's 5 to maybe 17 mph The first 40 miles are paved and in great shape but then, depending on how long it has been since the remainder was graded it might be "good" washboard or, as it was on my first trip, a real test and a tire popper. Tires, including trailer tires had better be in perfect shape and of heavy duty construction. Grease those bearings! After blowing out both trailer tires and the spare I once had to sit 3 weeks waiting to have heavy duty 8 plies sent in from the US. They don't sell little boat trailer ties in Baja and of all things they are on the list of things not permitted to be shipped in without a special Customs' permit. My son was flying in but he was not allowed to take the tires on the plane. We had to have tires sent from Detroit to a San Diego customs' broker. He put them on a truck to Mazatlan. At Mazatlan they were put on a ship to Loreto. At Loreto they were put on a bus for Mulege but the driver forgot to unload them and they ended up back at the border! It was back on the bus south to Mulege where we retrieved them. This was all accomplished through my good friend Bruce Leech at Mulege Financial Services. This is where you exchange your US money, draw on your credit card etc. If you are in any kind of jam in Central Baja head for Bruce Leech! A Prince of a guy and he will give you the straight scoop on anything related to Baja such as buying property or business dealings. He does not cut corners, he does not pay any bribes, he does it right.
Campo René is owned by a family from Guerrero Negro and managed by a local staff and is located on Estero de Coyote and "yes!" you will see coyotes there both on the mainland and on the sand/mangrove islands which also host scores of species of beautiful water birds. There are small, primitive cabins to rent, a good restaurant, covered picnic plaza, a paved launching ramp and a wonderful staff all at your disposal. You might be their only guest and they will very glad to see your dust coming down the road! Several times I have been the only guest at René and other times there have been a couple other gringos. Once there was a church group of 50 from all over Baja. The very friendly locals from Punta Abreajos and la Bocana, lobster and abalone divers, sometimes come over in the evenings for drinks at the bar. It's a good place to get acquainted with the two best sport fishing Captains in the area, Domingo and Juanchi, both from Bocana. I have successfully fished the Pacific reefs with both of these excellent Captains and have developed a special relationship with Juanchi and now he's my guy. The last 3 mornings with him I scored 60 yellowtail, 6 yellowfin tuna, a couple dorado and numerous other "stuff" fishing my 2, 40# rigs. On double hookups he would bust out laughing " Mr. Pierson this is your problem!" or " Mr. Pierson what do you think of la Bocana now!" I have 62 years and a terrible back and that guy just kills me! And he laughs! Before Juanchi the most grande yellowtail I had landed in a morning was three and that was about enough for me!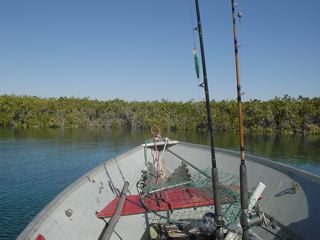 I'll leave the details of the reef fishing for another time and get back to the Estero. Is the fishing at Estero de Coyote any good? Well, it depends on who you ask, what they know, and when you are there. For me this place is close to Heaven. I got lucky. Right off I have to say that this is a great place to get skunked! You sure will not get skunked if you actually get your boat out on the water but that can be very iffy. I once saw two guys with two tin boats from Ca. put in, fight the weeds. sandbars and tide for two hours, load up in a huff and head out before we could even say "Hi!" Please don't even think of going all the way to René without doing your homework. You can find the San Diego tides on the internet, they are about the same. Tides and wind are EVERYTHING at this Estero. It is not a situation where bad tides simply make it "difficult". No, bad tides make it absolutely impossible to fish. You see, you can't catch a whole lot of fish on dry land and there are weeks at a time when water is hard to find. Even on the best days the water may only be deep enough for fishing a few hours each day, sometimes it will be good almost all day. Many, many days there seems to be as much seaweed than water. Sometimes the good tides are all after dark. Study your tide and moon charts and go when the water is consistently "in". Avoid days with to radical tide fluctuation as that is sure seaweed.

Yum! Broomtail Grouper

Spotted bay Bass

Big Pacific Porgy
With all the constraints why mess with this place? Because when the conditions are good the fishing is astounding! Ok, you have gotten your tin boat or inflatable to Campo Rene, the tide is in and most of the weeds are out: what next? I take it for granted you have enough sense to have your copy of The Baja Catch in hand and are standing on the porch outside the restaurant looking at the Estero de Coyote map. If, looking from the porch to the left all you see is a mile of mud forget it. You need to see that particular mud flat completely covered with water and if the tide is on the way out you better wait or wade out for the thousands of clams.
As you see on your Baja Catch map there are many mangrove islands throughout the estuary. The map does not have these islands positioned exactly right but plenty close enough. No matter what anyones' maps show, you are going to have to find the channels for yourself. They have changed since your last trip. The sands shift radically with each storm. On my last trip, one of the sure-thing deep channels had gone dry! Just a few months before it was 14 feet deep. You need to find yourself a deep channel and "deep" here means anything with more than 4 feet of water. Don't waste time trolling the back bays' miles of foot deep water unless you are happy with tiny, baby fish.
I'll give you a clue that will require you to do some work for yourself. Stand on the the restaurant patio with your binoculars and look to the left for a few old buoys about a mile or so away. That is THE SPOT. Up to 14 feet deep and always full of fish. Flounder, scads of spotted bay bass at three pounds and more, barred sand bass, corvina, corbina, Pacific porgy to eight pounds, hard-fighting saltwater catfish to 6 pounds, misc. critters such as puffers and needlefish and jacksmelt which are the primo cut bait. What I am after is broomtail grouper and they surely are in there! I find these glossy, spotted beauties the most attractive fish at Rene's and the locals favorite eating fish. They will hit lures but cut or live bait is far more productive.
If you, like many anglers have dreams of a Baja snook you are at exactly the right spot. They are there in their hundreds, well maybe scores, smaller to medium in size in the shallows under the mangrove roots but I'm not going to tell you where they are! If you are in the one right channel they are very visible. I have not seen any real big snook there but I have seen photos. The experts say the snook are only "in" for a couple of months but I see there all seasons. Think about it: where would they go? On vacation?
If you have a cast net but are not too good at throwing it ( my situation) the good people at Rene will accept your net and return it to you full with finger mullet. Remember to bring ice, none at the camp. You can keep some alive in your live bait tank as I used to do. I have since figured out that dead and chunked they catch just as many fish. If your best efforts to secure bait fail drive up to the fish co-op at Punta Abreojas and they will be glad to meet you and to give you some mackerel or skipjack.
A circle hook, size 1/0 or 2/0 is what I use. I tie up 80# mono leaders about a foot long, circle hook on one end, swivel on the other. I run my line, 20# mono through an egg sinker of one to two ounces and tie to the leader. Use anything available for cut bait. The very best by far are the 14" jack smelt that are easy to get on sabiki rigs baited with small pieces of fish or squid. I cut them into 2-3" chunks. The reason for "overkill" on the leader, 80#, is that even that will occasionally get bit off by triggers, etc. If you are strictly out for "fun" 6 or 8# line is great but your "fun" will turn sour if you hook a "Big-Un" broomtail and he heads for the roots. I use 20# mono and carry 40# gear too. I have never needed the 40#, even in the roots. And about the roots, despite what I read I catch as many grouper in the middle of the channels as I do right in the roots. They will gladly come way out to chase the lure or bait.
Trolling is another good way to fish the estero and it is what I enjoy but trolling will not take anywhere near the numbers as bait. The rubber swimbaits in the shape of a fish, maybe 4-6" even 8" is a producer. Green and blue/green are good colors. The larger flounder love an 8" green swimbait trolled or cast and reeled about a foot or two from the bottom of the sandy areas. For me the overall best lure for all species has been the Rebel Spoonbill in black/gold or black/ silver. For the snook small 3-4" surface minnows seem to work better than larger lures.
The mouth of the estero has deeper water and occasionally has decent fishing but is often a real mess due to sea weed. At times of the year croaker are thick near the mouth and if you like shore casting try the rocky shoreline 8 miles north of Campo Rene. The reefs only 50 yards are a shore casting hot spot. This fish pond is right below the big house, you can't miss it. There are no other big houses for miles either direction.
Laguna la Bocana, located between the towns of Punta Abreajos and la Bocana has larger fish than Estero de Coyote but has it's own set of problems. Best to launch that laguna near town at the panga area where everyone will be glad to help you. You can very carefully launch a few miles down the laguna where you'll see my graffiti for Campo Doug at the old shack. This place is great with at least eight species within a few feet of shore. Watch the tides! The tides can come and go and the ground looks dry but in fact it is wet a few inches down. It is almost pure salt and can be a big problem. The locals kids can look at the color and tell if driving is safe but I can't. Now I walk it first. One night the tide came in on me and my car which I had parked "safely" a quarter mile from shore. I was a victim of the rising tide and I sat on a hump of sand for 2 days and a night until I was spotted and retrieved. " What the heck," I pulled out a spinning rod and fished from shore! The guy who rescued me, retired pro baseball centerfielder from the Mexico City team and local businessman Jesus is now one of my best friends. Get stuck and you'll meet a friend in Baja! Great people.
When you hear about mangrove fishing in Baja you hear about Mag Bay. I have not been there and for now Campo Rene is my place, my little bit of heaven. See you there?