| | |
| --- | --- |
| | Fishermen's Journal |
MOTION SICKNESS
by Paul Carnes, M.D.

MOTION SICKNESS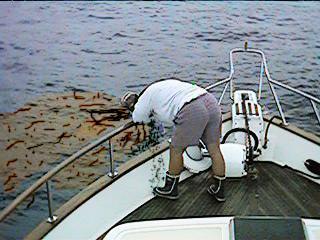 What causes motion sickness? Well it involves the inner ear and three canals called the semicircular canals. These canals exist in the three different planes of space, i.e. up-down, left-right and front-back. These canals exist so that we can live in a three dimensional world and stay balanced as we move around (some better than others). Within each of these canals are small calcium deposits that are called otoliths (ear stones). Anytime we move out of a particular plane of space these little stones move and let our brain know via nerve transmissions. Now in most situations of movement this is not a problem for the brain to handle. However in some situations in which the movement in and out of these planes of space are chaotic (like in a boat, car or airplane) the brain may misinterpret the nerve transmissions. For some this may eventually cause N/V.

Nausea and subsequent vomiting can be exacerbated by many different reasons. Input from many of the peripheral senses can contribute to nausea. For example visual and olfactory (smell) input can in many people initiate nausea and vomiting (N/V). And of course taste and consumption of some foods/liquids can initiate N/V. Although I do not know of any cases of
auditory (hearing) induced N/V, I speculate it may be possible (besides the times when people say, "hearing that just makes me sick" :)). Many medical conditions may also cause N/V. Some of these include inner ear infections, diabetes, gall bladder disease and dehydration to name a few conditions. Many medications are also suspect, including some chemotherapy agents and antibiotics (there are too many to list here). My reason for explaining all of these causes are because all may worsen N/V initially caused by motion
sickness.

How do we treat motion sickness? Well for some, like me, I don't take anything because I've never gotten sea sick to the point of vomiting. For others medications are a must. Most of these medications are taken orally; however some can be taken via a rectal suppository (e.g. Compazine) or some even in a gel that is applied to the skin (e.g. Trans-derm Scopolamine and
Compazine). There are a number of different medications that are effective. Below I will describe some of these classes of medications. How do they work? Well pretty good for most people :) Actually most of these drugs either work in the area of the brain that receives the nerve impulses from the semicircular canals or affecting the nerve impulses directly. There are
basically five or six classes of drugs that work effectively for N/V. Not all of them however are effective in preventing motion sickness. Some though are effective once N/V has been initiated secondary to motion sickness. The three classes of drugs that are effective for motion sickness include:

Antidopaminergics: for example Compazine

Antihistamines: for example Meclizine (Bonine, Dramamine II), Cyclizine (Marezine) and Diphenhydramine (Benadryl), and Dimenhydrinate (Dramamine)

Anticholinergics: Scopolamine (Trans-derm Scop)

Many of these drugs have side effects, most prominently sedation, dry mouth, and blurred vision. For the specific side effects and the contraindications for taking these drugs see or talk to your doctor and/or pharmacist first.

Another class of drugs worth mentioning is Serotonin receptor antagonists. These drugs are used very frequently in patients who have N/V while undergoing chemotherapy. But there might be some usefulness in combating motion sickness related N/V. The most prominent oral drug in this class is called Zofran (Ondansetron). The most prominent side effect is headache, followed by fatigue/malaise. The biggest drawback is the cost of this drug.

All of the medications above can of course be prescribed by a physician. However only the antihistamines described above can be purchased over the counter. Because of this fact, these are the most popular medications obtained by the person who has a problem with motion sickness.

For many people the biggest problem with taking these medications is sedation. It's been my experience that Meclizine or Cyclizine are the least sedating. However there may be some individuals that become very sedated with either of these medications.

What about some of the other "non-medication" methods of combating motion sickness that have been described? I'll discuss some of those below:

1) Looking at the horizon and staying in fresh air. Well looking at the horizon may work by actually "tricking" your brain in what seems normal. With viewing in the distance it only takes a small amount of eye movement to see a larger area, thus only small eye movements are necessary to view a large arc in the visual field. Near sight vision takes lots of eye movement.
Remember what I said about input of other senses? Also staying closer to the deck of the boat, and also near the center of the boat will decrease the amount of roll (side to side), pitch (up and down) and yaw (left to right) you will experience. The fresh air eliminates the contribution of smells that might contribute to N/V. Besides the smells below deck, visual cues causing nausea are also intensified.

2) Cannabis. There is medical evidence that the active component in pot, tetrahydrocannibinol (THC) is effective in decreasing some types of N/V. Besides being illegal (except for some medical conditions) it has not been proven to help prevent N/V from motion sickness. How it works is not known.
3) Ginger. There is medical evidence that this does indeed help relieve N/V. How it works is also not known. Ginger extract can be found in most health food stores. Remember Ginger Ale does not contain ginger root extract

4) Wrist bands using the accupressure point called P6. Many people claim it works. It may in some individuals. How it works is unknown; however the Chinese state it works by balancing the ying and yang of your body.
5) Beer. Beer may work for two reasons, but it may also worsen N/V for one big reason. First beer initially may keep you well hydrated and also has a sedating effect (not many people have N/V while asleep). But the bad effect is that it may eventually cause dehydration. Remember drinking beer may eventually make you pee like a racehorse. Dehydration is the enemy and will make N/V worse.

6) Rubbing Alcohol. Believe it or not sniffing rubbing alcohol (isopropyl alcohol) may eliminate N/V for a short time (up to 30 to 60 minutes). If you do this remember these facts: only sniff a very small amount (i.e. on a cotton ball) of the alcohol for only a second to two; do not use near a flame or cigarette/cigar; do not use if you are allergic to rubbing alcohol; if you sniff the alcohol for too long you may get light headed and faint; do not use if you are pregnant; do not use if you are a minor...etc. See your own physician before you do this! (yes this is the disclaimer)..

I know this is a lot of information but here are my basic rules if you want to help prevent motion sickness.

A) Start your medication well before your trip. This does two things. One it tells you what kind of side effects you might have and two will give the drug time to get into your system. It also gives you time to switch drugs in case the side effects are too much of a problem. I think the best over the counter medications are Cyclizine or Meclizine. You will need a prescription to obtain Trans-derm Scop patches or anything else. For many the patch is the way to go, especially if a dry mouth doesn't bother you.

B) Keep well hydrated and not with alcohol. I recommend having a little food on your stomach before your trip. What this does is gives your body a little bit of last minute energy, especially if you are not able to eat anything else because of motion sickness. Also if you do get sick people tell me it's better vomiting up something rather than having the dry heaves. If you do start vomiting try to keep as well hydrated as possible. Keep away from foods that are harder to digest, like that greasy hamburger.

C) If you do start to get sick stay on deck in a warm and dry place. Try to stay away from smells that may make things worse. Watch the horizon if you can. Drive the boat if possible; this will help you look at the horizon. Remember all that "sealegs" are is that time it takes your brain to get use to the motion of the boat as being "normal". That's why many still feel that
boat rocking after you get back on dry land. It's your brain telling you that rocking is normal.

D) If motion sickness is really problematic (e.g. you get car sick easily or have a family history) you might try ginger extract and/or the wristbands.

E) Lastly see your family physician or local pharmacist if you have any questions. This is especially important if you have chronic illnesses such as high blood pressure, a heart condition or diabetes.

Well I hope this helps some of you. This information is by no means to be considered a complete explanation of motion sickness and its treatment.

Paul P. Carnes. M.D., AKA Pablo

[I met Paul via the Internet nearly as soon as I opened up the tackle sales end of things. Paul lives in Oklahoma, and was my first customer from that State. He surprised me with his knowledge of fishing (purchasing Newell reels no less), and takes several long range trips annually. He didn't always live out in Oklahoma, he's another transplanted Californian originating from San Diego. You'll catch Paul popping up on message boards every now and then. If you see a post from Pablo, let him know you appreciate his articles - lots of good info! Maybe if we're nice to him, he'll zap over a picture of someone "barking at seals" for this article. Okay, now, lets all take a kid fishing..."have a mayo sandwich, some ice cream and candy while we leave the harbor jr?...]

---
---