CharkBait has been covering the local coast for a few years now. Every season I get a couple reports from fellow private boaters about nasty and sometimes downright dangerous situations that develop on the water when they come in too close a contact with the big commercial party boats. Here's the latest, regarding the Matt Walsh (pictured left):


08/12/99 - Hey mark I'm a long time reader of your page I love the info, by the way you really do a great job reporting the info. I had a bit of a run in with the Matt Walsh the other weekend I was hoping to get your opinion about it. I run a pretty small boat 16.5 deep v 100 horse motor I was out at the horse shoe the other week and I was hanging out fishing near the Matt Walsh I didn't have an anchor so I would drift the Matt was anchored and I would run up past it and the slowly drift past it. I have always tried my hardest to keep my distance I was far enough away I was never in casting range. well after a while I had given up on catching (the bite was dead) and began trolling well outside of the Matt Walsh the captain eventually decided to move his boat after some time there and purposely ran over my repallas cutting off one of them. I figured that he did this accidentally and was fine with that but I found out later he actually was trying to cut me off (he was actually bragging about it to his buddies at LA Harbor Sportfishing). I have always tried to keep my distance. one thing this captain doesn't understand is that I like going out on the boats at LA Harbor Sportfishing and have always tipped well and always spoken highly of their landing. I guess this all I can say is that it was "bad form" I wish we could all just get along. Any comments?
Greg

Sure bet I have some comments! Last season there were several incidents. The Freelance used to be well known among private boaters as an accident waiting to happen, when Ken Philips* was driving the boat. The Freelance would zip through a pack of private boaters like I'd go through a pack of Oreo cookies. I saw the boat rip through the fleet at 10 knots or better, nearly swamping small private boats, several times. There was an incident a year or so ago when the Tide Change got into a pissing match with a private boater. One of the guys fishing the TC actually tossed iron jigs at the small private boat, nearly injuring the boat owner. To make this even worse they purposely cut off his trolling lures, cutting through his pattern. This one ended up with complaints to the Coast Guard. You'd think the ocean was big enough to prevent this type of situation from developing. Well, it's not; nope, not when we all try to fish the same bite.

So what's going on? The party boats are out trying to make a buck. It's not an easy thing to do, lots of operating expenses, competition for filling sacks, hard to get great help (compare our deckhands up here to those in SD...!). And, to make matters worse, once they do find a bite to work, along come the private boaters surrounding them like a pack of wolves (or school of hungry barracuda). To the party boat skipper, it must feel like he's the guy making the investment in finding and building the bite with chum. And, the private fleet is pimping them for their own fishing success. Shucks, they don't even get a dime for their time or chum. Not to mention, the privates don't even buy greasy burgers off the sportboats.... It's a situation that has inherent frustrations, that sometimes translate into rudeness and downright unsafe operating methods.
I've seen private boaters troll right up a party boat's chum line, or drift within casting distance to an anchored party boat. That can be a "buzz killer" to a building bite. And, I don't begrudge a skipper from venting his frustration vocally, not at all. Many of us private boaters have been guilty of using the sportfleet as our "fishfinders" instead of using our own electronics. Heck, I've been known to do that when I don't take the time to search out my own bite. But, we've got to respect the guy who found the fish first. And, we've got to do our part in respecting another boat's turf - whether the we're talking a kelp paddy offshore, or a local bite on barracuda or bass. There's never an excuse for motoring through a party boat's chum line, or anchoring up to fish the same structure. It's not going to work.
So, how do we manage to get along with one another out on the water? Here's my view of "on the water etiquette."
Find your own bite, you've got $500 or a lot more in electronics...learn to use 'em
If you are fishing with the fleet, stay out of the big boats way. Keep a good distance away from the big boat, at least two casts distance from the sides or bow.
Never troll through a party boat's chum line. If you do have to cross try to go for the bow, or stay 1/2 mile beyond the stern. Do not speed through their chum, or blaze a trail behind the boat. If you "must" cross paths nearer than 1/2 mile, go slow or drift through the chum line, don't motor through.
Return a favor once in a while. If you've found a honey hole, don't be afraid to spread the word to other boaters. Yep, you might make a friend by calling in a party boat and/or the private fleet to a good bite. Party boat skippers have good memories.

What do you do when a big sportboat comes to your spot without an invite? Well, you can get into a pissing match pretty quickly. I'm not one to try to push out a big semi on the freeway, nor would I consider pitting my 17 footer against an 80 foot party boat. If the cattle boat encroaches on your turf there's not much you can do but move off, in my opinion. This is especially true if you are on a drift. But, I've seen and heard of guys who were anchored up, and along comes the sporty and drops their anchor right on top of you. They figure that the structure is "their" spot, too. My feel, move off, it's a big ocean, and there are lots of spots worth fishing. There are jerks in every field, minimize your contact with 'em. And, remember them. Let your friends know what happened. Let CharkBait know what happened. Post your contact on our message board. Getting the word out will influence others who might be inclined to ride the party fleet. Let the Kharma run it's course.
It's also a good idea to let the landing know what's going on, and if something occurs that is unsafe, let the Coast Guard know. No one likes paperwork, or complaints being filed against their operation. It's a time eater, regardless of the outcome, and time equals frustration. Bad word of mouth advertising isn't something any operation needs, and complaints made to the Coast Guard are followed up on, aggressively.
Life's too short, and fishing hours are too hard to come by, to warrant getting a coronary over some rude numbnuts. Find a new spot to fish, prospect your own bite, instead of engaging in "combat fishing."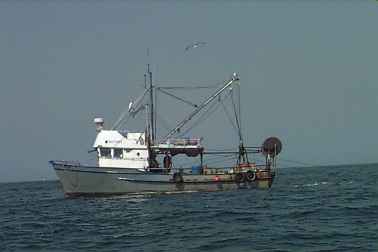 Here's a side point: An even bigger problem facing both the big party boats and fellow private boaters has been the ever increasing number of net boats (pictured). Both the sportboat operators and us privates have had our run in's with these guys. While the private boaters haven't seemed to have had any help from United Anglers or other concerned groups, the sportboat operators may actually represent our best chance at putting a muzzle on these guys. There have been several situations reported, and now videotaped, of these boats dragging their nets right up the stern on the party boats, especially at night when their illegal activities usually go unnoticed. Perhaps, if we look at common threats we can work towards a solution together. Private boaters and party boat operators working against a common threat might be very positive. These boats really put a damper on a good bite...for good.