| | |
| --- | --- |
| | Fishermen's Journal |
Morro Bay Albies

by Jim Lee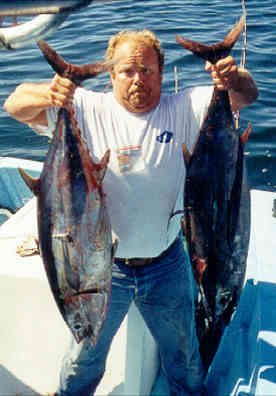 In August, my fishing partner Bob, his boy Bobby, Bobby's friend Shane, and I heard on FishTalk radio that the albies were looking to die up at Morro Bay. We loaded up and yelled out the window of the truck, "Road Trip!" (Picture John Belushie yelling in Animal house). Next thing you know, were in the water at 04:00 on Sunday morning.

We found out where the receiver was and loaded up on Anchovies. We stuck on the stern of another boat as we had never been to Morro before and headed out. I would recommend doing the same if you head out in the dark.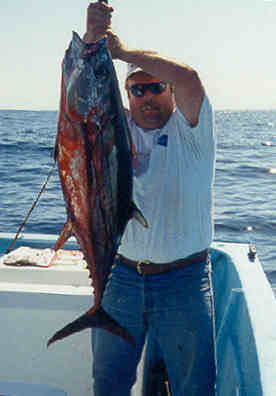 Anyway, just before first light we put out a purple and black and a rapala. In less than 15 min. we hung one on the feather. Shane started chumming, Bob got on the fish, Bobby got the Rapala in, and I got a dine out. Like a well oiled machine we got a fresh one post haste. These two are the ones I'm grunting to lift. I figure they went 40lbs a piece. Already, the trip was worth the drive as far as I was concerned.

We trolled for the next several hours but nothing. Then we started a drift in a area we metered fish, and lost 5 more. Let me explain... The boys (both 10) were itching to land a fish so when Bob or I would snag one, we would hand off to the boys. Shane hooked one by himself but it nearly spooled the Calcuta 400 he was fishing with. I had to slow it down, but when I added some more drag it came unbuttoned. We think it was bigger than the single one pictured here, as it ran much harder.

Well, about lunch time Bob decided to turn off some switches and guess what? He hit the bait pump switch! All of it rolled. I was pissed and he was feeling stupid. Soooo we decided to troll some more. After an hour of trolling he said lets stop and put a bait in the water (we had maybe 6 nearly dead survivors). He doesn't fish much and figured this place is as good as any. I was still pissed, but figured why not. The trolling wasn't producing anyway. He had my Calstar 800XL and a Calcuta 400 with 25 lb. To my surprise he got hit there in the middle of nowhere, and big time! He was losing line real fast and said to me, here! and handed it off. I ended up fighting it for about 45 mins. and landed it. It is the other one pictured here. It measured 54 in. and I think it weighed about 60 lbs. Who knows? We didn't have a scale yet. Any guesses?

We went up the next weekend too and boy was it different! Big time swells wind.... no fish! Hope you enjoy the photos.

Tight Lines,
Jim Lee


Well, Big Jim got me thinking... Just how hard was it to launch from an area you'd never visited? How big a boat do you need for the waters up the coast? How was the tow, was information available about where the bite was occuring? So I asked him to give us some more details. - Mark
---
First off I'm no expert on the waters in or around Morro. The Harbor is not easy to figure out in the dark and I wouldn't suggest that you even think about navigating without a good chart of the area. Also talk with the locals when you get to the launch ramp area. I found them to be very receptive to my questions. They had a good handle on the sea conditions which are very different north of Point conception! Ask the locals or you may not make it further than the first wave after the breakwater. They get breakers in the channel I'm told. Enough for the warning and onto the fun stuff.

The drive up is nice with lots of water to look at on the way. It's hard not to get all fired up with nothing to do but dream about the fish you might be on in a mater of hours. Head for San Luis Obisbo then get though it and several miles down the road there are signs for Morro. To get to the boat ramp head straight for the water, the road your on dead ends into a cross street. Take it to the right till the street turns into a parking lot. This is the parking area for the trailers... I mention this because this is where the locals were hanging out drinking beer and telling fish stories. They were way cool and very helpful, i.e. things to watch out for where the fish were caught the day before what channel to monitor...

The ramp itself is at the far end of the lot. It is a one boat at a time affair. From the ramp the bait receiver (a seiner) is located in the direction of the power plant smoke stacks. Head that way till you see Virges sport fishing. The receiver was just to the right of Virges both times I was there. As always the boys on the receiver have the latest scoop and put us on the right spot. Bait is a little cheaper up there than here.

You can't help but notice that most all the boats up there are cabin types. It gets windy and cold. However my first time up (the one where we caught the fish) it was flat and clam. Beautiful in fact. Sea otters, blue water... The next weekend (yes we had such a good time that we went up back to back weekends!) was another story! Winds to 25 knots (I used to wind surf and that's a true 25, not most peoples idea of windy). Of course with the wind comes waves. They were six to ten feet and quite steep. We buried our bow on one that took the starch out of our shorts if you know what I mean. Next thing you know two of the four people on board are chumming. It was cold, wet, and no fun. We caught no fish on that trip, but in hind sight it was still worth the drive up just to get into some new surroundings and be with good company.

That brings me to the type of boat necessary for the up north. As I said most of the locals run cabin boats... Parkers and Radons or the like. I have a 26 foot center console Super Panga. It was fine in the rough water but as you might imagine we had full foul weather gear on and still got wet and cold. You should do your best to gather information on the local conditions before you even leave this area (I'll give my bookmarks later). Then make a decision of weather to go out. I don't know your boat or you seamanship skills so I can't tell you what is the minimum boat you would want to go up there with is. I have been on the water all my life (racing sailboats, scuba diving, surfing, windsurfing...) and was quite comfortable about our safety up there in the wind. I could tell some the other guys I was with were less enthusiastic though. It boils down to this, use the head God gave you.

As far as trailering. I think it's a good idea to have two extra bearings for the trailer... just in case. Also my partner and I have a little pact with each other. If we get at all sleepy we switch driving responsibilities right then. You can't imagine how tired we were driving though the night getting two hours sleep, in the water by 04:00, fishing all day, then having to drive five hours home. It was real nice to know I had a good driver at the wheel while I caught a few. By the way he only lasted at the wheel for about an forty five min. But buy then I had a cat nap and was fine for a long time. Be smart.

I feel like a over protective mom or something. But when Mark asked me to jot down a few words these things seemed to be at the top of the list. Oh yeah! If the albies aren't cooperating you might try a little chum slick. While I was cleaning the fish we had a visitor... a nice seven foot blue that I hooked and then let the young boys learn to pump and wind on. To bad the blue didn't come along before they lost five long fins. Oh well I can't say I haven't lost my share of fish. The boys had a blast on the blue! Their first.

I hope this is of some help and if you have any questions I'd be happy to answer any questions you have. Here are the links I promised hope you enjoy them. Virges has some great info. As well as Batbatsfords page. I hadn't done much albie fishing before this trip and Bats page had a great primer that I read out loud on the trip up. It was, to say the least, very informative. Give his page a good look over. Also Virges page has some detailed info on directions to Morro.


Links to help you plan your trip:
http://www.virges.com/
http://www.best.com/%7Esbats/visitorbook/book.html
http://www.nws.mbay.net/marine.html
http://www.best.com/~sbats/tunaclub/toc-3.htm http://swfsc.ucsd.edu:80/tunanews.html
http://psbsgi1.nesdis.noaa.gov:8080/PSB/EPS/SST/data/californ.c.gif
http://www2.mbari.org/avhrr/avhrr.cgi
http://cdip.ucsd.edu/models/islands.gif
http://cdip.ucsd.edu/models/latest.gif
http://cdip.ucsd.edu/models/forecast/
http://cdip.ucsd.edu/models/forecast/fm_cca_xxx.gif
http://cdip.ucsd.edu/models/forecast/fm_mon_xxx.gif
http://cdip.ucsd.edu/models/forecast/fm_san_xxx.gif
http://scilib.ucsd.edu/sio/dataserv/piertide.html
http://www.nws.mbay.net/sst1.gif
You too can get published right here at CharkBait. Have an idea other boaters or fishermen could use, some experience to share, a great trip to report? Well, get typing, include some pics, and if your article is selected for publication you'll receive a free CharkChirt and the appreciation of other fishermen.
---
---